Making Inventory Management Efficient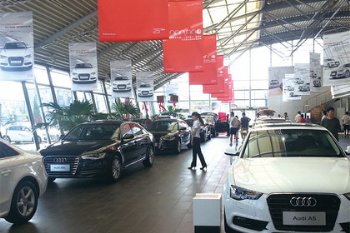 About Shan-Dong Motors Company
Originated in 1999, Shan-Dong Motors Company is the biggest motors company in the province of Shan-Dong. With the dealership rights of Volkswagen, Audi, Ford, General Motors, Toyota and Honda, Shan-Dong Motors has been on the top of the list with the number of sales. It is listed as one of the top 100 companies in China and plans to invest in Automall to consolidate new and used automobile sale, automobile accessories, shopping, entertainment and dining all into one. Shan-Dong Motors's revenue is estimated to achieve US$ 4.8 billion by 2015.
Being in the top 100 automobile dealerships in all of China, it is no surprise that they have many stores with lots of cars and parts to maintain in their inventory. Specifically the Audi 4S store has a load of work with vehicle sale, services and thousands of car parts to maintain. They manually record and regulate stock takes which results in incorrect data and products lost. The shelf sections for each product are not fixed, so the outbound process becomes very slow and complicated. Therefore, the customer has to wait for an extended period of time. The time usage of each test car is not recorded correctly, so the test car is displayed too long. This consequently slows down the overall turn-around rate of the rolling stocks.
Barcode product management
Audi 4S uses barcodes to tag their vehicles and car parts so they can be designated to their correct sections. Furthermore, it uses the barcode system to categorize the different kinds of vehicles and car parts. However, the printing quality of the barcodes is not always in excellent shape, which makes it difficult for other devices to read all the barcodes successfully. CipherLab 9300 mobile computer's versatile reading capability can successfully read all the barcodes regardless of condition. With CipherLab 9300 mobile computer it is easy to secure the vehicle location and update the most current information which shortened the time of the overall vehicle outbound process, cost of maintenance and overall efficiency.
Immediate sales information update
Audi uses the 9300 to correctly scan and refresh all sales information which can easily update the inventory information of the warehouse. The data is instantly updated and the consistency between the backend system data and the actual quantity is kept. This could also regulate stock take which eliminates problems of products being misplaced, lost or stolen.
Indoor and outdoor usage
Many vehicles are stored or displayed both in indoor warehouses and outdoor locations. CipherLab's 9300 mobile computer is certified with IP64 which has great resistance for dust and humidity. This is exceptional well for maintaining vehicles in both indoor and outdoor locations.
Professional technical and customer service
CipherLab is committed to provide the best onsite technical support and customer service. This is undoubtedly true with the partnership between CipherLab and Shan-Dong Motors. CipherLab took care of software issues and developed programs that best suited the customer. CipherLab happily shared prior experiences with the customers to improve their operation process.
After using 9300 and information management, Audi 4S has cut down US$17,000 annually, 600 hours of warehouse outbound process, and doubled the average turn-around rate of rolling stocks.
Audi 4S as example for future store management
Shan-Dong Motors Company currently has 8 different Audi 4S stores and they plan to utilize CipherLab 9300 to manage and maintain their stores by August of 2013. On top of all that, the source company of Shan-Dong Motors, Shandong Commercial Group Co., ltd. plans to expand 40 stores within the main cities of Shan-Dong province by 2015. The successful experience of Audi 4S will also be deployed in their future stores.
About Jinan Xinlifang Automatic identification technology Co., LTD
Xinlifang is a high-tech enterprise focusing on bar code scanning equipment, bar code label printers, RFID card devices (such as vending machine, time and attendance, access control, and vehicle management), fingerprint identification, automatic identification systems, and etc. They are mainly engaged in embedded systems, automatic identification products, and application system development. Xinlifang is one of leading professors and developers of embedded operating systems and automatic identification products. With trusted reputation, Xinlifang is now CipherLab's partner in China.
Download pdf:
Making Inventory Management Efficient