International Logistics Company Streamlines Omnichannel Services With CipherLab's RK95 and RS35 Mobile Computers
Warehousing Solution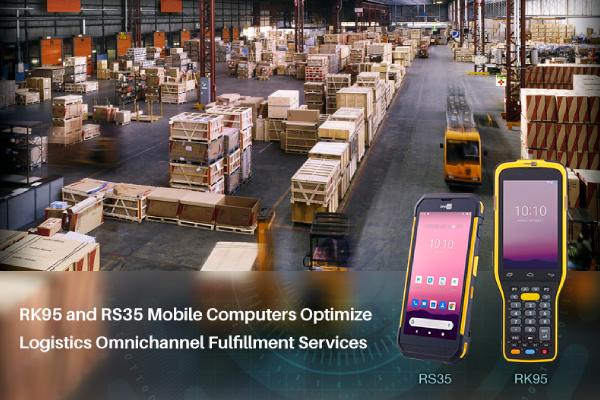 The logistics company is a major international logistics provider with 223 warehouses and fulfilment centers in 14 countries. They recently partnered with CipherLab to further streamline their omnichannel services. This Thailand-based operation serves many major multinational and local companies across several industries. These include the food and beverage, footwear and apparel, retail, and fast-moving consumer goods markets. Its services include supply chain management and integrated logistics services.
E-commerce is a rapidly-growing part of all business nowadays. As such, the logistics company provides a complete omnichannel fulfillment solution. It offers this via major regional hubs and consolidation centers. In this way, they can best optimize inventory flow and ensure fast response times.
Originally, the company was using mobile computers in the form of handheld terminals to manage inventory, receiving, packing, and shipping. They operated a Telnet system to access SAP WM and control, manage, and trace the movement and storage of goods.
The International Logistics' Challenges With Existing Mobile Computers
The logistics company relies heavily on an intranet. They use it for internal communication across warehouses and for managing workflows. Their current handheld mobile computer system suffered from frequent WiFi disconnection issues. This was especially prevalent in particular warehouse locations. These disconnections were causing interruptions in workflows and degrading their efficiency. Additionally, they were experiencing long delays in getting help with these issues from their device provider.
The challenge was to find a solution to enhance their current productivity levels and limit disconnections. They need devices compatible with their existing
Ivanti® Velocity Telnet (TE)
and warehouse systems. Besides, the company relies heavily on forklifts for streamlining its warehouse operations. So, they also need durable devices able to withstand accidental impacts and falls without cracking or smashing.
They approached CipherLab to come up with solutions to help them solve these ongoing problems. The brief was to replace their existing devices with more effective handheld terminals.
CipherLab's Handheld Terminal Solutions
CipherLab's
RK95
and
RS35
mobile computers
proved to be the perfect fix for this demanding logistics environment. These handheld devices ticked every box on the logistics company's wish list. Thus, they provided a comprehensive solution to their ongoing challenges, as follows:
RK95 Industrial Mobile Computer
The
RK95 mobile computers
are multi-touch mobile computers. The ruggedized design provides warehouse staff drop resistance from 1.8m and IP65 sealing for water and dust resistance. It includes 2x2 MIMO for superior Wi-Fi coverage and high-speed data transmission. This enables many workers to remain connected simultaneously and handles extensive data transmission without disturbances. Additionally, workers can use the RK95 to read barcodes over 21 meters away. Long-range scanning capabilities allow accurate data capture on high shelves and distant forklifts.
RS35 Touch Mobile Computer
The
RS35 handheld mobile computer
features a market-leading WiFi transmission. This offers a reliable, seamless in-store WiFi connection, providing instant access to online information, fast roaming and efficient warehouse operation. Besides, information can be viewed easily and comfortably on a large 5.5" screen. In addition, the RS35 offers excellent protection against accidental drops in busy warehouse settings. That's thanks to its 1.5m drop resistance, 1.8m drop resistance with a rubber boot, and 500 tumbles at 0.5m.
Both these Android devices are compatible with
Ivanti® Velocity
Telnet (TE). They're suited to rapid deployment and require no costly IT system modifications. Thus, users enjoy a smooth transition when making the switch to these mobile computers. They can continue with their routine transport and warehousing operations workflows without disruption, ensuring a consistent user experience.
Both RK95 and RS35 also feature the
EnDEcloud deployment tool
. This allows enterprise device administrators to easily manage configurations through a wireless network on a single platform. Further, the built-in
AppLock app
gives the company ultimate control over the screen desktop, essential device settings, and pre-approved business applications.
CipherLab provides same-day services to help troubleshoot any problems. We also provide additional business support as required by our clients.
Results Using These Handheld Mobile Computers
CipherLab's RK95 and RS35 handheld computers, coupled with our customer-centric technical support received positive feedback from the global logistics company. Our solutions provided extended WiFi coverage with a stronger, faster connection and roaming capabilities. This allows for smooth data communication among networks and devices within the warehouse and distribution center.
Daily operations at the logistics company involve unloading pallets by forklift. They also move boxes via a conveyor belt to a temporary storage area. The RS35 and RK95 assisted in this capacity as follows:
Receiving Process
The RS35 can read barcodes on each box against the receiving note during the receiving process. This assists employees in working more efficiently at this stage.
Inbound Quality Control and Picking
The RS35 handheld mobile computer also aids in the inbound quality control (IQC) process by capturing barcode data on the product and its outer packaging. This ensures efficiency and accuracy during quality control. In addition, the RS35 is also applied in the order-picking workflow.
Put-Away Processes
Finally, the RK95 assists staff in the put-away process by enabling them to read barcodes on distant storage racks. They can do this from the ground or a forklift thanks to the durability and long reading range of this device.
Support and Response Times
Most importantly, CipherLab impressed the company with our agile support in the event of issues. Our fast response and same-day support ensured immediate assistance with any problem, minimalizing warehouse workflow disturbances.
Device Management
In addition, our EnDeCloud software offers a simple handheld device management interface via the intranet. The EnDeCloud "remote control" functionality gives administrators ultimate control of enrolled devices. They can access diagnosis and repair of problems with these devices from anywhere. This reduces support costs and optimizes device availability.
The AppLock function enables application management and allows for easy and remote setup, copying, and deployment of files between mobile computers. This helps increase efficiency in device management.
Overall, CipherLab was able to meet and exceed the international logistics company's requirements for enhanced omnichannel services.
Get in touch
to see how our
RK95
and
RS35
mobile computers or software solutions can help streamline your workflow, too.
#RK95 #RS35