Honda Atlas Cars Pakistan Limited Implement Digital Warehouse Management Solution to Meet High Demand for Parts Supplies
|Manufacturing Solution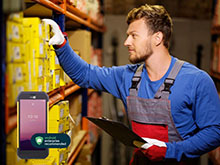 As one of the largest car manufacturers in Pakistan, Honda Atlas Cars Pakistan Limited (HACPL) was founded in 1992, and now its dealership network has grown to include 60 authorized dealerships in all major cities across the country. The company places a high value on efficiency, upholding global standards, and making a consistent effort for continuous improvement. Local parts are thoroughly inspected to ensure that they meet stringent international standards.
A large automaker generally requires a quick and steady supply of car parts. HACPL discovered a few issues and inefficient processes obstructing their spare parts supply while investigating their spare parts warehouse processes. Their primary concern was that their warehousing processes were overly manual and used little automation resulting in several inaccuracies, such as improper or delayed shipments, inefficient put-away, and issuance. As a result, the company's warehousing processes lacked visibility, traceability, and control. HACPL wanted the right parts in the right places and at the right time. It became increasingly difficult for them to keep track of so many SKUs and customers. They wanted to improve their logistics and ensure that their shipments are accurate and on time. They desired efficient storage, strategic part placement, and packing of components to be issued. They wanted to automate their manual quality control process and deliver traceable RTCs (trolleys) on time to their suppliers.
By automating and digitizing the company's spare parts warehouse, HACPL's problems were solved. They used a barcode-based solution developed by EmergTech Pvt Ltd, a Pakistan-based Supply Chain and Factory Automation solution provider. EmergTech accomplished this for HACPL by utilizing barcode tags, printers, SmartWMS, and CipherLab's
RS35
rugged mobile computers. Emergtech developed a turnkey solution to automate their spare parts warehouse flow from start to finish, improving their processes' overall accuracy and efficiency. With its new system, HACPL can perform cycle counts much more frequently and accurately. The SamrtWMS software was developed to meet HACPL's needs; the solution included a customized frontend, backend, integration with their SAP ERP, and customized barcode generation. The software consists of all the standard warehousing features, such as receiving and put-away, as well as transfer, picking, and issuance through standard protocols.
For scanning purposes and being able to use the android application of SmartWMS, CipherLab's
RS35
mobile computers were used. The
RS35
Android-based mobile computers support regular and UHF scanning. These pocket-sized rugged devices streamlined the workflow seamlessly with integrated scanning, powerful processing, an intuitive touchscreen, and robust connectivity. In addition, the
RS35
seamlessly integrated with the server to complete the entire Warehouse Management System of HACPL.