A Unique Culture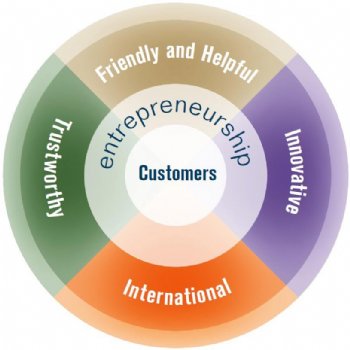 Values
CipherLab values are entrepreneurial, centered on human values and an optimistic outlook. Our competitor's values are traditional, centered on business metrics and controlling structure.
Approach to market:
CipherLab anticipates vertical market needs; nurtures customer partnerships and relies on in-depth qualitative research and strategic analysis.
Competitors tailor to market needs; build customer relationship; use comprehensive quantitative data and statistics.
Organizational structure:
CipherLab builds teamwork and mutual trust; uses interdisciplinary project teams; captures opportunities.
Competitors cut through layers; reduce headcount; achieve metric targets.
Operating system:
CipherLab operations empower efficient and effective responses.
Competitors use effective budgeting; manage operations using IT.
Human resources:
CipherLab relies upon top quality international talent; encourages entrepreneurship; offers superior profit sharing.
Competitors control expenses effectively; reduce internal barriers; watch the bottom line.