Richard Köstner AG Enables Improved Warehouse Management through Seamless Integration of CipherLab's RK95 and WMS System
Warehousing Solution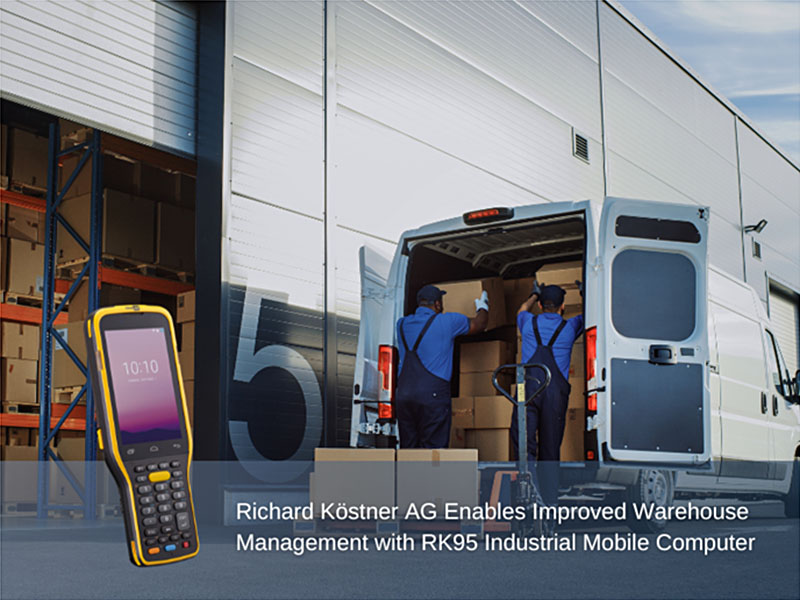 As a family-run trading company in business since 1934 and employing over 500 people at 9 locations,
Richard Köstner AG
knows warehouse efficiency is vital to their everyday operations. Richard Köstner AG is a specialist wholesaler and dealer of a comprehensive range of products. They focus on sanitary fixtures, tools, machines, building services, steel centers and household goods for both businesses and consumers.
Growing Pains in the Digital Age
In 2018, Richard Köstner AG needed to migrate the WinCE system to Android as they switched to new handheld terminals. They required software compatibility and adequate data processing, and they wanted the same user interface to achieve a painless transition. Plus, they needed wireless connectivity to keep up with their fast-paced warehouse operations. That meant they also needed an MDM (mobile device management) system that would support the deployment of numerous mobile computers.
With all these specific requirements' the obvious choice was CipherLab's
9700A industrial mobile computer
. They applied the 9700A to their warehouse and put it into service, using it for checking inventory, receiving goods, taking photos of inbound shipments to verify their condition when they arrive, shelving the items, picking, and shipping. Then, in 2021, Richard Köstner AG wanted to upgrade its handheld warehouse terminals again.
The Solution: CipherLab's RK95 Industrial Handheld Computer
Richard Köstner AG knew CipherLab had the technology they needed to upgrade to a new generation of industrial portable terminals. In cooperation with their partners, CipherLab helped them integrate the perfect solution using our
RK95 industrial mobile computers
and accompanying software. This helped Richard Köstner AG simplify the upgrade process and helped their equipment conversions go smoothly while maintaining normal warehouse processes.
Better User Experience
Switching to the RK95 provides a better user experience for employees. Its 2x2 MU-MIMO technology boosts its data capacity and transmission speed. With seamless and fast roaming, these capabilities extend coverage and enhance the potential to increase efficiency.
Richard Köstner AG also used CipherLab's
EnDeCloud deployment tool
to support device management and rollout for the RK95. It also allows enterprise device administrators to manage different configurations using a wireless intranet network via a central control location. This is also a perfect solution for any company with data security concerns.
Greater Control
CipherLab's AppLock app
offers a user-friendly design and enables simple and intuitive operation for any worker. The AppLock app empowers the company's IT management team to control basic device settings and copy files remotely. This keeps workers more efficient by preventing accidental settings changes and restricting access to non-work-related apps, keeping users on task.
WMS Integration
CipherLab connected the RK95 mobile computers to Richard Köstner AG's preexisting Warehouse Management System (WMS) and helped them create a simple management process. This process gave them a better understanding of their inventory, order statuses, and other essential data. With this integration, their operations became more transparent and efficient.
Why Choose CipherLab?
"CipherLab's RK95 has an intuitive design and is easy to use, with a good WiFi connection vital for the warehouse environment and IT managers to manage the mass handheld mobile computer," said Timo Zierock, Team Leader, IT System Integration at Richard Köstner AG. "CipherLab offers customized solutions that fulfill our operational needs." The RK95 also provides an outstanding hands-on feeling and experience. It withstands harsh environment – a very cost-effective solution for the warehousing process.
#RK95