French Textile Innovator Enhances Shelf Inventory Management with CipherLab's RS35 UHF RFID Solution
Shelf Inventory Management Solution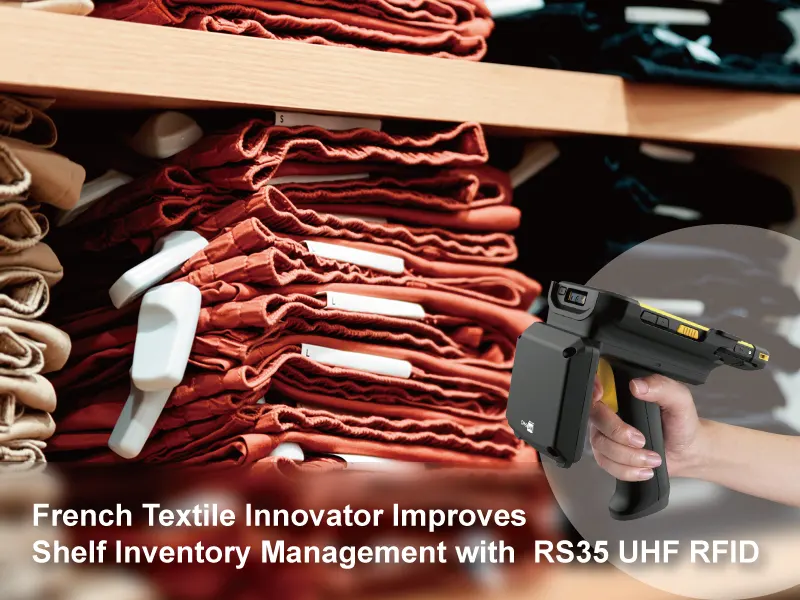 In a dynamic era of retail innovation, this renowned French textile manufacturer and ready-to-wear distributor has been pioneering fast fashion across France, Belgium, and Luxembourg. With a visionary approach that redefines traditional store-centric models, the company has artfully established an exclusive market presence through strategic collaborations with major supermarket and hypermarket chains, including Auchan, Carrefour, and E.Leclerc.
Setting a new standard in efficiency, the company retains distribution control through its dedicated fleet of vehicles. This approach ensures timely product delivery, shelf placement, and ongoing
inventory replenishment
in retail stores, reinforcing a seamless shopping experience for customers.
Quest for Enhanced Shelf Inventory Management
Faced with evolving consumer expectations, the company encountered a unique set of challenges as it sought to improve its retail operations. Specifically, the company was in search of an innovative UHF RFID solution that could be easily integrated with mobile devices, while eliminating the need for a physical keypad. The aim was to streamline and optimize
shelf inventory management
within retail stores. The challenge lay in identifying a solution that not only met these criteria but also seamlessly integrated with the company`s existing systems and processes, ensuring a smooth transition towards more efficient and accurate shelf inventory management practices.
Revolutionizing Retail Efficiency
Responding to the company's unique requirements, CipherLab, in collaboration with our esteemed partner, introduced a tailored solution centered around our cutting-edge
RS35 touch mobile computer
and UHF RFID reader. This advanced UHF RFID solution was meticulously crafted to streamline shelf stock-taking processes within retail stores. The RS35 handheld terminal, featuring a large 5.5" full touch screen and a sleek, smartphone-like design, seamlessly integrates into the existing workflow. The
UHF RFID reader
integrated into the RS35 excels at swiftly reading, recording, and storing vital product details, including item numbers, sizes, locations, types, and prices. This comprehensive information system significantly reduces the time typically spent on inventory searches.
One of the standout features of the solution is its capacity to generate replenishment suggestions, ensuring timely restocking and efficient shelf management. This empowers visual merchandisers to create and maintain store displays to ensure an aesthetically pleasing environment for shoppers. Additionally, the RS35 mobile computer extends its utility beyond inventory management, functioning as a flexible tool for route accounting. It adeptly handles route planning in trucks, further enhancing operational efficiency. The CipherLab RS35 and UHF RFID solution not only seamlessly aligns with the company's needs but also enhances its real-time inventory management process and takes it to new heights, maximizing operations and empowering its retail endeavors.
Elevating Operations with CipherLab
In essence, the decision to opt for CipherLab was driven by the comprehensive RFID tag support provided by RS35 touch mobile computer and UHF RFID reader, coupled with the large touch screen functionality. The RS35 UHF RFID solution supports both reading and writing of RFID tags, facilitating a seamless transition from traditional barcode reading to UHF RFID. This transition enhances real-time shelf inventory management.
By harnessing the RS35's advanced capabilities, the company has successfully optimized its logistical operations. With a large touch screen, the RS35 handheld
mobile computer
ensures superior visibility and ease of interaction. Its application for route planning has minimized transit times and improved resource allocation. This strategic decision has empowered the company to significantly elevate operational efficiency.