Records Management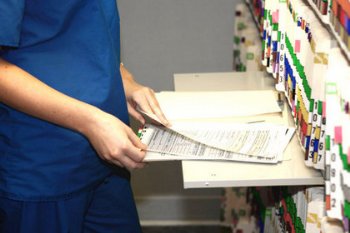 With government regulation and electronic patient record (EPR) initiatives throughout the world's healthcare systems, barcode scanners and mobile computers have never been more important to a patient's well being and organization management. From admitting, throughout the care facilities, to the administration offices, handheld scanners or mobile computers help initiate, update, and maintain every aspect of a patient's record.
Wired scanners or mobile computers initiate the patient record in admitting by scanning the wristband barcode that every patient carries during the course of a stay. Wired and wireless handheld scanners or mobile computers throughout the facility update the patient's record every step of the way. Scanners or mobile computers and the Hospital Information System reduce, possibly eliminate paperwork, and help ensure regulatory requirements and hospital policies are met.
As paper records accumulate, barcode labels make it easier to keep documents organized and in the right patient file, while scanning them reduces efforts to manage records.
Suggested Products