Dispensing Medications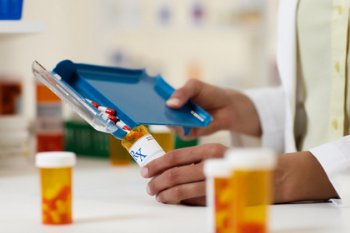 Whether at the pharmacy or at the bedside, medication dispensing must be accurate - medicine, dosage, and patient.
As a prescription is filled in the pharmacy, a barcode label attached to the container links the prescription, patient, doctor, and time and date in the patient and pharmacy records. At pickup, verifying the patient's ID and scanning the container, ensure medicines reach the right person. Scanning the container at the pickup counter can also trigger additional programs in the Hospital Information System to ensure dispensing the drugs are in accordance with government regulation and pharmacy and hospital policies.
Dispensing at the bedside means careful cross checking the medications to the patient. Scanning the barcode on the dispensing cup and the patient's wristband ensures the two belong together, and allows nursing staff to instantly update the patient's record through a medical cart with Bluetooth® scanner or mobile computer.
CipherLab solutions help ensure greater accuracy and safety when it comes to dispensing meds.
Suggested Products