Caring for Patients at Point-of-Care
Caring for Patients at Point-of-Care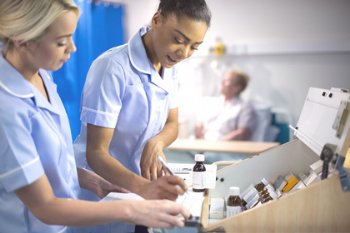 Caregivers pride themselves on the personal, high-touch services they provide their patients. High-tech computers, where patient information is held, are unconcerned. The two must peacefully co-exist, even complement each other. CipherLab Bluetooth®-enabled scanners and pocket-size mobile computers make that happen.
Through access to the Hospital Information System, scanners and mobile computers enable caregivers to quickly identify patients, cross-check medications, and update activities. CipherLab products reduce the paperwork burden and leave caregivers in admitting, physical therapy, scanning services, and patient floors more time to focus on their patients, while keeping patient records up to date.
For temporary and substitute nursing staff, a medical cart with Bluetooth® scanner or mobile computers puts accurate patient information in their hands right at the bedside. The barcode scanner or terminal lets them verify the medicines in the dispensing cup are for their patient, while it confirms with the patient records and doctors orders, and even cross-checks drug databases for contra-indications and warnings.
All at or near the bedside. All instantly and accurately. CipherLab products enable caregivers to continue their high-touch services with high-tech support.
Suggested Products