Plant Maintenance & Repair
Plant Maintenance & Repair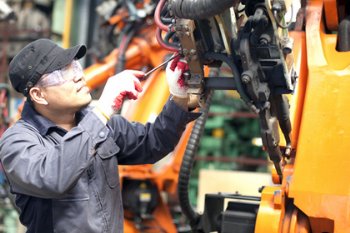 When it comes to keeping the production line and plant operations up to standards, information is critically important to mobile technicians. From the start of their day, through every aspect of their tasks, to the end of their shift, CipherLab mobile computers enable them to get their jobs done faster and more efficient.
CipherLab mobile computers with wireless LAN, Bluetooth®, and wireless WAN (GPRS/GSM) give mobile technicians access to the tools they need - wherever they go. Equipped with barcode scanners or RFID readers, service technicians can instantly verify equipment against the work order ensuring they are working on the right equipment at the right time.
Our Windows®-based or Windows®-free and Android-based mobile computers put the day's repair orders and schedules, service histories, problem reports, parts orders, and even technical bulletins and manuals in their hands. They can instantly file their reports through the WLAN or wireless WAN and print service labels on Bluetooth® printers to attach to serviced equipment. CipherLab mobile computers are real time savers, enabling repairs to get done faster.
Suggested Products