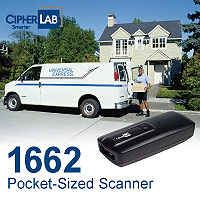 1600 series is designed to enhance dependability in the field mobility and outdoor applications with the new reader option
Taipei, Taiwan - May 30, 2012 - CipherLab, a leading innovator in Automatic Identification and Data Capture (AIDC) has delivered a new scanner - 1662 laser scanner to the 1600 series of pocket-sized scanners. Easily to be carried around, this scanner is also equipped with laser reader to better assist your field staffs when capturing barcodes under the bright sunlight. Additionally, the long lasting battery life of 1662 laser scanner makes it a must-have tool for your mobile staffs.
"While being operated in outdoor environments, the scanner's performance may be affected by sunlight. We hence developed an additional reader option for field workers who have to deal with the situation every day," commented Sherman Chuang, President of CipherLab. "We have confidence that the 1600 series laser scanner can not only get the jobs done but also done better."
In addition to these features, the 1662 laser scanner comes with software tools for easy configuration coupled with a large 4 MB on-board memory which provides flexibility in data storage. It is also equipped with Bluetooth® connectivity that has a 20-meter working range to allow reliable connection with Bluetooth®-enabled smart devices and instantaneous data communication.
For more details and specifications regarding CipherLab 1662 laser scanner or other CipherLab products, please visit www.cipherlab.com.
About CipherLab
CipherLab is a global leader in the design, manufacture, and marketing of Automatic Identification and Data Capture/Collection products and systems. The company's mobile computers and scanners are integrated into the networks of some of the world's best known logistics, retail,distribution, government installations and healthcare companies, helping them run more efficiently and effectively onsite and on the road. Operating worldwide, CipherLab is headquartered in Taipei, Taiwan with offices in China, Germany and the USA, and is publicly traded on the Taiwan stock exchange (Taiwan OTC: 6160). For more information, please visit www.cipherlab.com.
Press Contact:
Kevin Lee
CipherLab Co., Ltd.
886-2-8647-1166 x 2811
kevin.lee@cipherlab.com.tw