ALTOB Boosts On-Street Parking Management with CipherLab's Mobile OCR Solutions
Automated Parking System Management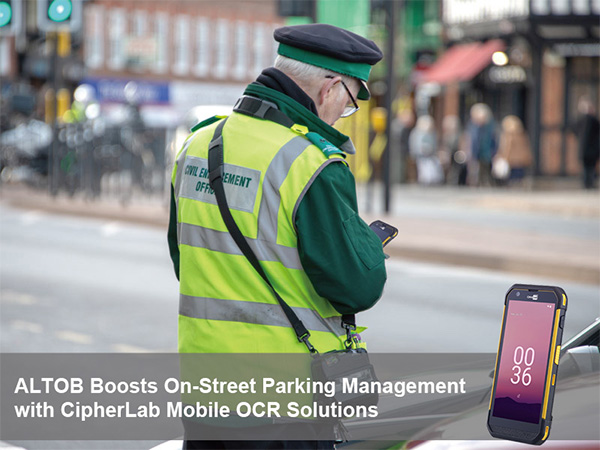 ALTOB, a company based in Taiwan, prioritizes its customers and strives for sustainable growth. By focusing on incorporating high technology into parking lot management and intelligent solutions, they have set themselves apart in the parking control industry.
In today's world where businesses are looking for ways to improve work efficiency and reduce human entry data mistakes, a rugged mobile device that supports both barcode reading and smart
optical character recognition (OCR)
data capture is the perfect solution for on-street parking management.
Traditionally, parking attendants were required to undertake regular patrols to manually verify and write a car owner's parking information on a paper parking ticket, which made the process time-consuming and prone to human error. With the advancement of technology, automated parking ticket solutions have been trending in the industry.
In order to apply automated parking ticket solutions, parking attendants have been equipped with a mobile device and bluetooth printer to issue parking charges. However, parking attendants frequently encountered license plate recognition challenges due to lighting and weather conditions, particularly on drizzly days or in low light conditions, not to mention the slow speed of receiving recognition results by using a cloud-based OCR solution when the connection is poor.
ALTOB's
original automated parking ticket system also faced the same problems when using mobile devices on rainy days. Thus, the company has turned to CipherLab's rugged
RS36 Touch Mobile Computer
.
Thanks to CipherLab RS36's rugged design featuring water and dust resistance and a high-brightness display of 630 nits, automated parking solutions have become well-suited to challenging environmental conditions and are able to simplify parking control outdoors. Parking attendants can now conduct regular patrols with RS36 mobile devices and bluetooth printers, allowing them to issue parking tickets quickly and accurately along with photographic evidence. More importantly, this data never leaves the device or is processed on external cloud servers.
To optimize work operations and reduce human errors when recording parking information, ALTOB has integrated CipherLab's Mobile OCR technology with their self-developed mobile electronic ticketing app on the RS36 Touch Mobile Computer. This offline-based OCR scanning, powered by AI technology and its PDAF lens, has allowed enabled parking attendants to capture license plates in fast focus, automatically verifying parking rates without the need for network reconnection. This removes the need for parking attendants to manually input license plate numbers into their mobile devices, significantly improving work efficiency and reduced the likelihood of errors.
With this automated parking ticket system in place, parking operators can accurately track parking fees while minimizing the risk of human error and setting a new standard in the parking control industry.