CipherLab's RK95 Industrial Mobile Computer Assists India's Two-wheeler Market Dominator in Accelerating Digital Transformation with Parts Traceability
Parts Tracking Solution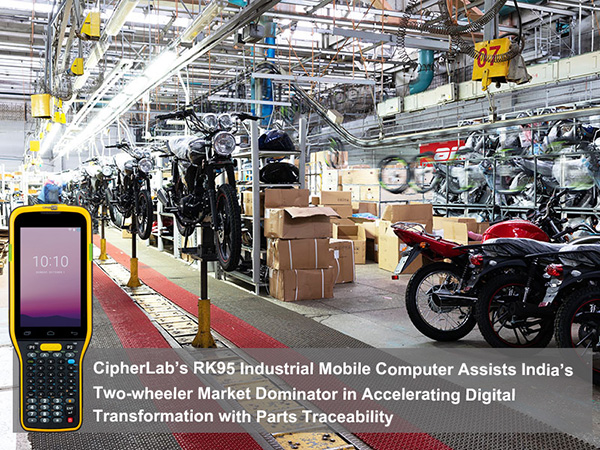 The company, based in the New Delhi (India), has been at the forefront of designing and developing technologically advanced motorcycles and scooters for customers all over the world. It has rapidly expanded its presence to 40 countries across Asia, Africa, and South & Central America over the last 20 years. To achieve the key goal of real-time visibility while migrating tracking system from Windows to Android, it chose CipherLab
RK95 Industrial Mobile Computers
to better control every detail of data tracking and simplify workflows.
Driven by market demand and fueled by technology, the company leaders believe digitalization and traceability provide real-time quality parameter interlocking and capturing of process parameters for critical components. To implement better data traceability solutions, the company has migrated its previous Windows Mobile to Android Mobile Computers to improve performance and security.
Before choosing the CipherLab
RK95 Industrial Mobile Computers
, the company previously used mobile computers with an in-house developed app to track parts in receiving, picking and packing, inventory management, and verifying dispatch items while SOH (Suite of HANA) ERP synchronized its data. As a result, the company reinforced its manufacturing excellence in terms of cutting edge digitalization practices.
Proper barcode labeling and tracking of parts from manufacturing has an impact on motorcycles and scooters' safety and monitoring for accountability during recalls. Furthermore, utilizing mobile computers for Work in Process (WIP) tracking ensures that finished products have the correct components and assembly processes and make it to final quality control.
However, the original mobile computers and accessories were not durable enough to withstand frequent drops and impact during operations, and the RMA turnaround time was too long, while new devices didn't arrive in time. It causes high idle costs problem during downtime.
Compared to previous mobile computers, the CipherLab
RK95 Industrial Mobile Computers
are rugged, enterprise-grade devices designed to resist frequent knocks and drops while being used in busy factories and warehouses. With less RMA required and a shorter turnaround time, managers don't need to worry about work efficiency decreasing.
And the
RK95
4.3-inch display provides a larger area to view more captured information simultaneously. Its large keypads allow workers to work with bare fingers, stylus, or gloved-hand operation during their busy workday.
Mindful of reducing employee distractions and security threats, CipherLab has developed a range of software tools, making the Android-based operation system a reliable and robust platform for different applications. The first utility that the corporate used is
APPLock
, which ensures that only authorized apps are used on mobile devices. Running tasks-related apps allows workers to focus on tasks without distractions and reduces risks of unknown security issues.
Another feature is Software Trigger, a virtual button that acts as a real trigger key which floats on top of all other programs, thereby ensuring convenient trigger control while processing a barcode scan without any finger fatigue.
With CipherLab's newly-developed host log generator utility, LogGen, the technician can troubleshoot, diagnose and resolve an issue on a mobile computer through all event logs collected by on-site operators. Logs will be easily generated and uploaded to the built-in FTP client through a quick pressing of a button in the app, making troubleshooting easier.*
Besides having the benefit of better parts management in the factory and warehouse, the company also utilizes automated barcode data and SATO's dispatch app to manage and track recently dispatched finished goods. As a result, it can help transportation and logistics providers accurately identify goods at any stage and ensure successful on-time delivery of all motorcycles and scooters to their destination for greater customer satisfaction.
To facilitate multiple mobile device configuration at any time, IT administrators can reply on CipherLab's self-developed
ReMoCloud
to easily monitor and deploy Android-based mobile devices across diverse verticals while keeping the company's data secure and empowering work productivity.
*Note: You may need to update the firmware on your mobile computers in order to use the LogGen utility. For more information, please contact your sales representative.